by Chris Malta
The Internet is loaded with "distributors". Everyone who has a couple of wooden birdhouses or glass figurines to sell wants you to think they are a real, live wholesale distributor.
They use phrases like "Buyer's Club" and "Direct To You", and if you let them huff and puff at you, they'll blow your house down.
I often am not sure whether I should be amused or horrified at some of the tricks that these people are using to take your money.
When you open an Internet Store, you obviously need products to sell. Unless you want to lay out a huge amount of cash up front to purchase products, and then hope you sell them later, you should be using a method called drop shipping.
Drop Shipping is a method of retail sales where you do not have to purchase and warehouse products before selling them. The wholesale distributor ships each individual product directly to your customer AFTER your customer buys the product from you. You get paid for the product before you pay the distributor for it! It's simply a very inexpensive way to retail all the best products.
The most critical thing to remember is that you NEED to be as close to the manufacturer of your products as possible. The more "middlemen" you have to go through, the more fingers are dipping into your profit potential. The Internet is FULL of middlemen, and they've all got their sights set on YOU!
Here's what you should watch out for:
List of Wholesale Companies that Drop Ship, Only $3.00!
Ever see an ad like that on an auction site? So have we. We bought one. OK, we KNEW we were getting ripped off, but we just had to see it. A few days after paying our $3.00, we got two Xeroxed pages in the mail containing the most worthless information we've ever seen. If I thought I could make money on the Internet selling wooden birdhouses made in somebody's garage, I'd go into business with my neighbor.
These lists sell for anywhere from $2.50 to $6.00. Why do you think they're so cheap? Because nobody had to put any EFFORT into them! It's easy to hit a search engine, type the word "wholesale", throw the first 20 responses on a piece of paper, and sell it for $3.00.
Will it help you earn money? NO!
98% of all the Drop Ship Lists and Printed Directories on the Internet!
Yes, we bought them too. A LOT of them. Again, we knew we were being ripped off.
These printed lists and "directories" of Drop Shippers have been circulating the same, tired old listings of cheap import companies and off-brand, cottage industry products around and around for years.
They claim to contain "hundreds", or "thousands" of companies who will drop ship for you. Some of them contain hundreds of listings, but that's easy. Either reprint the same old listings you've been printing for 20 years (whether they're still in business or not!), or just go to a search engine, type in "wholesale" and copy the first 500 responses you get. Then slap them in a ragprint magazine and call it a "Directory". Same result.
Lists and "directories" such as this sell for anywhere from $7 to about $30. They're almost all in print form, and publish once a year; hardly timely enough to keep up with the dynamic nature of this business.
Super Drop Ship Information CD!
You've probably seen these on auction sites as well as web sites. Tell you what, we'll make this one short and sweet. Read the warning above this one, dump all THAT junk on a CD, and sell it for six bucks. Same thing.
Complete Internet Business Opportunity!
Have you ever come across a "Drop Shipping Opportunity" like this: (?)
They'll create a storefront for you.
They'll provide you with THOUSANDS of products that they'll drop ship for your store!
They'll provide you with Merchant Services so you can accept credit cards without having to open a bank account!
All for a ONE TIME PRICE of just $50!
Wow, doesn't that just seem too good to be true?? That's because it IS too good to be true. Oh, sure, they'll do what they say. It's a legal business. But tell me this… just how much money do you think you'll make?
Think about it for a minute. THEY establish accounts with wholesalers. THEY mark those wholesale prices WAY up. Then they get YOU to put in all the time and effort to SELL those products to people, at a VERY slim profit margin for YOU.
Congratulations! You've just become a commissioned salesman for someone else's business!
Um, not quite what you had in mind, was it?
For a Mere $149, and $50 a Month!
Run across one of these yet? A company who claims to be a "drop ship distributor", but has a "setup" or "membership" fee?
Let me say this very clearly:
A REAL WHOLESALER NEVER CHARGES A FEE TO DO BUSINESS WITH YOU!
ANY company that wants you to BUY YOUR STORE'S PRODUCTS FROM THEM, and wants you to pay a setup or membership fee, should be AVOIDED at ALL COST! Almost without exception, these companies have raised their so-called "wholesale" product prices so high that you will never be able to compete on the Internet. Your prices will have to be so much higher than anyone else's that you will never make any real money.
And guess what? You don't get to SEE these companies' "wholesale" product prices until AFTER they have your money! See how that works? There will be a NO REFUND policy. Bet on that.
Wolves in Distributors' Clothing
These places spend a great deal of effort trying to convince you that they're real distributors. We spend a lot of time sorting these profiteers OUT of OUR list of Directory candidates. Here's how they operate:
They put up a site that contains all kinds of unrelated product lines, and tell you they'll drop ship for your internet business.
They may charge a small account setup fee.
You sign up with them, thinking that they are an actual distributor, and you place their products for sale on your site.
Your customer orders a product from you, and you send the order to this fake "drop shipper".
The fake "drop shipper" in turn places the order with the REAL drop ship distributor, and has it sent to your customer.
You end up paying a lot more than you have to for the product, because the fake "drop shipper" is marking up the price to YOU.
You lose profits that should be yours.
Many of these people are very clever. Their sites look legitimate and they present themselves well. All they really are is just another middleman that is sponging off of your hard work. You DON'T need them.
Author Bio
Chris Malta is the founder and CEO of Worldwide Brands, the Internet's leading authorities on Product Sourcing for Home E-Biz, and the publishers of OneSource, the World's largest Source of eCommerce Wholesalers. Chris spent many years as a Microsoft Certified Systems Engineer, designing and building corporate and eCommerce server platforms, working for several large companies, and managing major installations for Fortune 100 businesses. With over thirty years experience in wholesale, retail, and entrepreneurial ventures, Chris was hand-picked by eBay Radio as their exclusive Product Sourcing Editor, and is responsible for managing the eBay Radio Resource Center. He co-writes and hosts Product Sourcing Radio, one of the top rated shows in the wsRadio Business Network, and has authored numerous books on E-Biz and product sourcing, including "What to Sell on eBay
and Where to Get It," published by McGraw-Hill.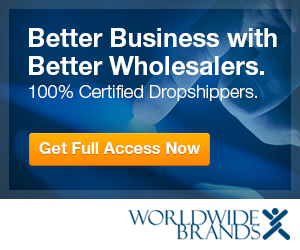 COMPENSATION DISCLOSURE: Let's state the obvious: we receive affiliate commissions and other compensation from products recommended on this website (at no additional charge to you). EARNINGS DISCLAIMER: There are no guarantees in life: you could actually lose money in business. IMPORTANT! Continued use of this website requires your explicit consent to our Privacy Policy and Terms and Conditions below.