See Chris Malta's Top Ten 'Wholesale Tips'. In video Tip 7, you'll discover how wholesale suppliers will process your account requests, and what you should expect when you submit your application to wholesalers.
People who are selling on eBay
, Amazon, Yahoo!, or their own ecommerce website, will often get impatient if wholesale suppliers or dropshippers do not respond to their requests quickly enough, but very few wholesale companies are equipped to set you up overnight.
This tip will tell you how long you should expect wholesalers to take to set up your account, explain what is involved on your wholesale suppliers' end, and share which times and seasons you can expect to get the quickest response from most wholesale distributors and dropshippers.
If you're trying to beat the economic recession with online retail, or if you want to start an internet business, you need to see this wholesale tips video series brought to you by Worldwide Brands.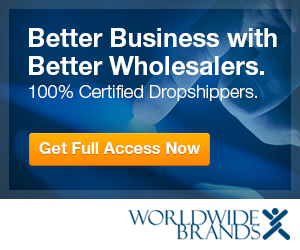 COMPENSATION DISCLOSURE: Let's state the obvious: we receive affiliate commissions and other compensation from products recommended on this website (at no additional charge to you). EARNINGS DISCLAIMER: There are no guarantees in life: you could actually lose money in business. IMPORTANT! Continued use of this website requires your explicit consent to our Privacy Policy and Terms and Conditions below.