See Chris Malta's Top Ten Wholesale Tips. In video Tip 4, you'll find out why wholesale suppliers do not publish their price lists on their website.
Many people are looking for products to sell online; they often become discouraged when they find a wholesale supplier or dropshipper but cannot see their confidential dealer price list up front. But it is actually in an internet merchant's best interest for their wholesale distributor to hide their wholesale price lists from the general public.
There are good reasons why wholesalers keep this information secret. This video will show you what those reasons are and explain what you will need to do before a wholesale supplier or dropshipper can share their confidential pricing with you.
If you're trying to beat the economic recession with online retail, or if you want to start an internet business, you need to see this wholesale tips video series brought to you by Worldwide Brands.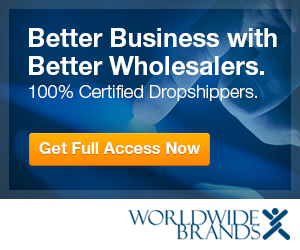 COMPENSATION DISCLOSURE: Let's state the obvious: we receive affiliate commissions and other compensation from products recommended on this website (at no additional charge to you). EARNINGS DISCLAIMER: There are no guarantees in life: you could actually lose money in business. IMPORTANT! Continued use of this website requires your explicit consent to our Privacy Policy and Terms and Conditions below.