by Chris Malta
Boy, it's tempting, isn't it? Free Shipping!
People will see your proclamation of Freedom from the dreaded SHIPPING CHARGE (imagine agonized screaming here), and flock to your site to take advantage of THE INCREDIBLE SAVINGS! (Fanfare, people cheering).
Well, it's true. In my experience, shoppers will check out an offer of free shipping before they commit to your competitor. Yahoo Shopping even lists Free Shipping sites as a category on their home page every once in a while, when they're promoting their Shopping area. Do those sites get hits? You can bet they do. Are they doing better than you are? Probably not.
Internet Shoppers, as a rule, are not dumb. Although the Internet Shopper tends to be an instant-gratification junkie (like me), they will check around before pushing that all-important Order button. They're going to go all the way through your order process, until they get the FINAL price. Then they're going to cancel the order, and do some checking.
What are they going to check before they push your button? The same product on other sites.
Now, let's assume that life is perfect, and you get the best possible wholesale price on the items being drop-shipped for your site. Naturally, life being perfect, the Shopper is going to be comparing prices on other sites that get the same great wholesale price that you do. What's going to happen?
Remember, somebody's got to pay for that shipping. Unless you are personally related to the Shipping Fairy, you're going to have to deal with shipping charges in all their sneaky little forms. Ground shipping, air, motor freight. Residential delivery surcharge. Shipping insurance charge. Signature release charge. They get you coming and going. (Literally!).
So what's going to happen? Your price is going to be higher. It has to be. When you offer free shipping, YOU pay for the shipping. So you have to raise your price. You have to include the estimated shipping in your item price. (Unless, of course, you want to take a hit below the belt -right in the profit margin).
Ok, ok, I know the logic. Maybe your price is higher, but with free shipping your final price will be about the same as a site that has a lower price, but charges for shipping, right? Six of one, half a dozen of the other. After the dust settles, you both make about the same profit. So the Shopper will buy from you, because you have free shipping.
But wait a minute. Where is the Shopper right now? Let's see, they visited you first, because you have Free Shipping. Then they went somewhere else to compare, and found that the overall price was about the same. What's going to be easier for that instant-gratification junkie?
Click! That's the sound of someone else's button.
Far-fetched, you think? Not really. I'd rather be the last site someone compares prices on than the first. The Shopper finds it easier, all things being roughly equal, to push the button where they ARE than go back and push the button where they WERE. When you have free shipping, people ALWAYS want to go elsewhere to compare prices, to see how much they're saving.
We ran free shipping on one of sites for a few months, and we were less than impressed. We got an increased hit count, but it didn't make us rich with hundreds of extra orders, and we really got nailed on some of the bigger shipping charges. We're still trying to weed those two words out of all the little nooks and crannies in our site that we stuffed them into.
So, in my humble opinion, leave the free shipping to the big department stores that buy hundreds of each item and get massive discounts. They can afford it. We can't.
What we CAN do, as smaller stores, is build cleaner sites that don't have 80 million items stuffed into each page. We can personalize our service by being more responsive to Shopper's questions and concerns. We can sell slightly more unique items that the big guys don't want to "waste" their precious warehouse space on. We can specialize, and market to a single niche. There are any number of ways to find success without getting tangled up in a gimmick that is marginal, at best.
Author Bio
Chris Malta is the founder and CEO of Worldwide Brands, the Internet's leading authorities on Product Sourcing for Home E-Biz, and the publishers of OneSource, the World's largest Source of eCommerce Wholesalers. Chris spent many years as a Microsoft Certified Systems Engineer, designing and building corporate and eCommerce server platforms, working for several large companies, and managing major installations for Fortune 100 businesses. With over thirty years experience in wholesale, retail, and entrepreneurial ventures, Chris was hand-picked by eBay Radio as their exclusive Product Sourcing Editor, and is responsible for managing the eBay Radio Resource Center. He co-writes and hosts Product Sourcing Radio, one of the top rated shows in the wsRadio Business Network, and has authored numerous books on E-Biz and product sourcing, including "What to Sell on eBay
and Where to Get It," published by McGraw-Hill.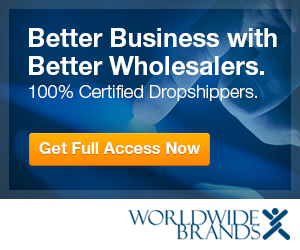 COMPENSATION DISCLOSURE: Let's state the obvious: we receive affiliate commissions and other compensation from products recommended on this website (at no additional charge to you). EARNINGS DISCLAIMER: There are no guarantees in life: you could actually lose money in business. IMPORTANT! Continued use of this website requires your explicit consent to our Privacy Policy and Terms and Conditions below.